Last updated on September 13, 2021
Gifts Given | Illustration by Jason Chan
MTG is one of those worlds that's so vast that it's almost impossible for a single person to collect every card. In simpler terms, you can't catch 'em all. There will always be a card that's missing, and adding to that all the sleeves, gear, tokens, and figurines related to MTG, you can always find a suitable gift for a Magic player.
However, since the world of MTG (and its collectables) is so vast, it can be difficult to choose a gift that will be right for your giftee among the plethora of products out there. But take it from a Magic player who's been playing for more than a decade: any gift related to MTG is always more than welcome.
So, if you're looking for a good gift idea for a Magic player or want something to add to your Amazon wish list, I'll try to provide you exactly that. I've looked all over the net to find a suitable option for everyone and categorized them, so you won't get lost in the literally hundreds of different options.
If you're not an MTG player but are just looking for a gift for someone who is, there might be some terms that are confusing for you. Card rarities, for example, refer to how "commonly" you'll get a particular card. They're ranked as common, uncommon, rare, and mythic rare. Foils, on their end, are cards that have a black border and a metal foil layer that make them shiny. If you get confused by any terms below, you can check the MTG wiki.
Best Choices
Under $25
If you're looking for a gift that'll help your giftee start playing MTG or if they don't have a large collection, this box by Star City Games contains a whopping 1,000 cards from many different sets for just 20 bucks. You'll get 25 foil commons, uncommons, or promotional cards, 25 rares, and a mixture of 5 foil rares and non-foil mythic rares, so there will definitely be something valuable among them.
Since there are so many cards from different sets, any player can use them as a backbone for different formats. There are lots of similar products out there, so you have other options if this doesn't quite tickle your fancy.
Under $50
The Zendikar Rising Gift Bundle, as the name suggests, is a great gift for any MTG player. The bundle includes ZNR booster packs, a collection booster, 40 regular-frame lands (20 foil, 20 non-foil), one promo alternate art card, one oversized spindown life counter, and two double-sided reference cards. It's definitely a good addition to any collection, as well as being a good choice for new players because it provides cards to play the go-to constructed format, Standard.
Under $100
The Nicol Bolas Archenemy set takes the usual competition of Magic one step further and introduces a format in which three players join up to defeat the fourth player: the villain Nicol Bolas. The set itself comes in a very fancy box, but what's more interesting is the scheme cards. The player controlling Nicol Bolas is able to set different schemes in motion, which might change the flow of the game altogether and even rival monopoly when it comes to turning friends against each other.
If Money Isn't an Issue
If you can spend a $200 for this spectacularly lucky person, the Zendikar Rising Collector Booster Box would definitely be a great gift. This box contains 12 ZNR collector booster packs plus 2 non-foil expedition land box toppers. Each pack has four rares/mythics, six special alternate-frame cards, at least 11 foils, and one full-art land, so it's basically something every MTG player would love to have.
Gift Gallery
Gifting cards to MTG players is, naturally, a safe choice, but there's lots of other options if you're willing to think outside the box. Don't worry, we'll go over cards too in case your giftee is a collector, but if not, we've got some other stuff for you to browse through.
The Basics: Cards and Boosters
Nice and Simple: Booster Packs
Since MTG is a collectable card game, the first thing to come to mind when talking about gifts is, well, cards. The problem with cards is you need to know what formats your giftee plays, as each format has their own rules on what cards can and cannot be used. If they're simply a collector, then you need to figure out what it is they don't have that they want. There are also special gift packs, special releases, anthology sets and a lot more.
If they play Standard, your best bet is to get them Ikoria: Lair of Behemoths, Core Set 2021, and booster packs, as those are the three most recently released sets and they'll still be playable in the format for quite some time. Otherwise, read on for some other options.
If you want to buy a nice shrink-wrapped "box" (with 24-36 packs), then be sure check out our article reviewing the best MTG booster boxes.
Single Cards
While everything else listed here are definitely good choices, there are some MTG cards that may turn any player into a 5-year-old in a pile of presents. This is also a tricky one, though, since you need to know exactly what card(s) they want. Lands are generally a good bet for any players, as all decks need good lands regardless of what they are. Fetch lands and shocklands are solid choices, but they're not playable in all formats.
There are no generally safe choices I can recommend for you, but if you know what kind of deck your giftee is playing—or can have a mutual friend find out for you—it's possible to buy a card that'll help round that out for them. There are lots of websites that do this like TCGPlayer or Card Kingdom. I need to remind you once again, though, that you have to be sure exactly what card your giftee wants or risk giving them an underwhelming gift, or something that they already have. I mean, I don't think they'll complain either way (it's the thought that counts), but it always feels better to get someone something that really makes their day.
Evil Presents | Illustration by Paul Bonner
Ready-to-Play for Game Night
Magic Game Night
This multiplayer set offers 5 game-ready decks. If you want to tag along with your giftee and have a couple more friends who already know how to play Magic or are interested in starting, you can get one of these and host a game night. MTG was made to play with others, after all. Plus, it kind of counts as a double gift, since you got them a bunch of cards and decks to play with plus a group of friends to play with and have a good time.
Brawl Decks
These decks are specifically constructed for the Brawl format and they're ready to go as soon as you open them. If your giftee likes to play with others a lot or you want to start playing with them, Brawl decks can be a great gift since the format itself is fun to play with. The Throne of Eldraine Brawl decks are a good option if you're not sure which one to get.
Commander Decks
Similar to Brawl decks, these are constructed especially for playing one of the most commonly played formats in MTG: Commander. This is in no way a beginner-level gift since these decks consist of 100 cards and Commander is a format for more "advanced" players. But if you know your giftee loves playing with others and is experienced in playing MTG, these can make great gifts. The Zendikar Rising Commander decks were released in September 2020, so they're a good bet.
We have a full review of this product here.
Special Editions and One-Time Offers
Secret Lair

Secret Lair drops are a series of special products that are released for a limited amount of time. It can be difficult to come across these special products if you're not lucky. These sets always have a special theme and since they're limited, they also have great collection value. You can take a look at the website here, but keep in mind that it might not be possible to get Secret Lair in time if they're not selling or already sold out. But, if you're lucky, you may get something special.
You can also snag them on Ebay, which is probably the best place to get them after they've already sold out from the official source:
Special Edition Gift Boxes
Occasionally, Wizards releases gift boxes that offer much more than a simple bundle. These usually include special alternate-frame cards and sometimes storage boxes or counters and various other promotions. Although these are released in limited numbers, you can almost always find them without too much of a hassle. The Throne of Eldraine gift edition is a good bet with 9 foil cards, 4 alternate-frame cards, at least 2 rare/mythic rare cards, 10 booster packs, 20 basic lands, 20 foil basic lands, 1 alternate-art foil rare card, 1 collector booster, and an oversized spindown life counter, all inside an alternate-art storage box.
Signature Spellbooks
These are "recent" additions to MTG releases. The first one, Signature Spellbook: Jace, was released in 2018. Basically, these are special sets that include eight cards that are all themed around a legendary character. All the cards included in the Spellbook define who the characters are and one of them is guaranteed to be a premium foil card. And they look really, really awesome. 2019 saw the release of the Signature Spellbook: Gideon, and Chandra Nalaar's Spellbook is set to be released on June 26.
Card Protection and Storage
Sleeves
For any MTG player, keeping their cards in mint shape is something that takes extra effort. Using sleeves is the most efficient way of doing that and there is no harm doing that in style. There are tons of sleeves to choose from, and this can be just as difficult a gift to give as cards or boosters if you're not sure what are your giftee prefers, or what brand, size, quality, etc. to even look for. This guide is a good start, but if you know that your giftee is just looking for basic sleeves, the Ashiok, Nightmare Muse sleeves from Theros could be a good option.
We have an entire article breaking down the best sleeves, so be sure to check that out too.
Binders & Deck Boxes
After a while of playing Magic and getting new cards, boosters, and decks, the number of cards keeps rising and it becomes an ordeal to keep them in order and make sure they're safe and sound. Binders are commonly used by dedicated MTG players, so if you're looking for a gift intended for a Magic player, a stylish binder can be a solid choice. Going back to Theros, this 9-pocket binder might be a good choice.
You can also go for deck boxes, which usually take a lot less space and can be easier to store and carry. As the name suggests, these are intended to hold decks as opposed to collections of cards, so if your giftee tends to play more than they collect (or if they already have binders but not even deck storage options), a deck box might be the best way to go. There are plenty of options out there, but a simple deck box with a dice drawer or this Cadillac Ultimate Guard model are a good bet.
If your giftee is a Commander player, be sure to check out this article.
Aesthetics and Collectibles
Playmats
A simple table is enough for playing Magic, but there is no harm using a customized playmat. It also keeps your cards from deteriorating and makes a great gift, so it's a win-win for everyone. You can take a look here to give you an idea of what your options are for a customized playmat. Alternatively, this Dark Lotus playmat is pretty sweet.
If you definitely know that you want a playmat, we have a full rundown of the best playmats over here.
Figurines
Anime or comic lovers usually take the highlight when it comes to figurines or Funko POP!s, but MTG players also love to collect them. There are hundreds of figurines out there, some are official releases while some are self-made. If your giftee fancies collecting this kind of stuff and has some empty shelves, there are some very cool options. You could go with a Sorin Markov 3D figure if you have access to a 3D printer, or an If that's more their style.
What About D&D?
Board Games
If you're looking for a gift for someone who maxed their inner nerd, you can look for products that combine MTG with other board games. There are some very viable options, chief among them this D&D campaign setting to jump in an adventure based on the world of MTG.
Dice
MTG is a complex game and there are a lot of variables that need be kept in check, be it creature tokens or counters for creatures or planeswalkers' loyalty. A dice set can make it a lot easier to keep track of things in long games. This dice set is an excellent start or addition for any Magic player.
If you're going the D&D route, though, a set of D&D dice might actually be a good pair. These are best purchased in-store as lots of online retailers sell poorly made D&D dice that have bubbles and thus favor specific rolls. Failing that, these dice are pretty and highly rated, plus they come with some awesome dice bags. If you want to get really fancy, a set of metal dice may be your best option.
Get Creative
Buying gifts for a special person can sometimes be very difficult since you have to choose from products that are already out there. If you're looking for something more personal and have some crafting skills, though, you can create something that will be special for both of you. Some don't even require much craftsmanship, just some good ideas!
You can create a custom card:
These are actually one of the most common gifts for an MTG player since it's always welcome and personal. Here's a great example by meyermw24 on Reddit:
You can also ignore the game altogether and simply go with some functional gifts with MTG's aesthetic or art like mug: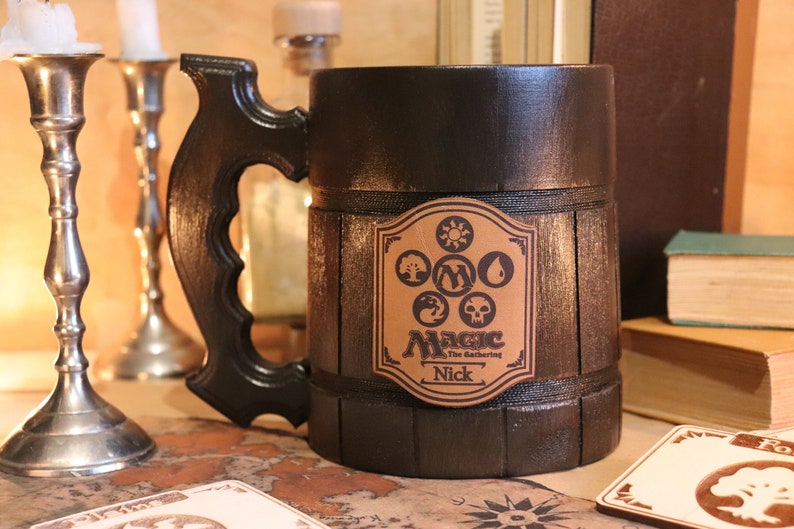 There's a lot of stuff to work with when it comes to MTG-related gifts, so the sky is pretty much the limit. MTG players usually love everything related to it. You can customize any gifts I mentioned earlier, too, like personalized deck boxes, playmats, dice, etc. While looking for gift ideas, I even found a spectacular one: a dad taught his daughter how to play MTG when she was little, and then she taught her boyfriend in college. Almost twenty years later, dad gives this beautiful quilt to his daughter on her wedding to said boyfriend:
Gift Cards
If you're not sure what to get for your giftee, you can always get a gift card. Sure, you may think it's too "simple, but is there a better way to make sure that your giftee gets what they want than just letting them pick for themselves? You can use TCGplayer.com if your giftee plays paper MTG, or get them a prepaid credit card with a personalized note so that they can get something for themselves on MTG Arena.
Local game stores usually offer gift cards and visiting them if your giftee hangs around is usually a good idea. Not only you can get a gift card, but people there may help you find a good gift for your giftee instead.
Time to Gift Wrap
It's not possible to include all the gifts you can get for your giftee here, but I hope this gave you a good idea or at least a jumping-off point. Any MTG player would be thrilled to get one these gifts since, frankly, these all look pretty awesome. Getting a Chandra Spellbook would be an absolute blast for me (to whom it may concern) but the quilt above would also make a badass gift.
What do you think? Let us know if you have any questions and maybe we can be your MTG Santa!
Note: this post contains affiliate links. If you use these links to make a purchase, you'll help Draftsim continue to provide awesome free articles and apps.