Last updated on June 18, 2022
Terramorphic Expanse | Illustration by Andreas Rocha
There's a brand-new MTG "play experience" about to jump at you later this year. With bigger packs than ever, a new way to play Magic, and exciting themes. Intrigued? I am as well.
Ready to learn everything we know about this new way to play? Let's start with its name: Jumpstart!
An evocative name if you ask me. Short, sweet, and something that is sure to excite. And we'll be taking you from the start to the finish line right now. So, without further ado, let's jump in! #punintended
Jumpstart Basic Information
Plummet | Illustration by Sidharth Chaturvedi
Set Details
Important Dates
As you can see, there are a lot of dates mentioned. It's a shame we have to wait to play this game in paper because of the Coronavirus. This set seems to be designed for you to sit down with your friends at your LGS and enjoy the crazy madness that Jumpstart is promising to be. I'll give you more on that in a bit.
One thing is for sure, though: from all the sets releasing around the beginning of summer, this is most definitely the one to be on the lookout for.
Jumpstart will be available at your local game store and online, and there will also be prereleases at your LGS on July 17, so make sure to keep an eye out for that as well!
Jumpstart is also now available on our draft simulator! Give it a try and see which weird pack combinations you get.
About the Cards: Size, Packs, and Legality
Seek the Wilds | Illustration by Anna Steinbauer
Now that you've seen what the product will look like and got all the basic info on Jumpstart, let's dive a little deeper. What else do we know so far? Wizards described it like this:
Jumpstart takes the best parts of Limited and Constructed Magic and fuses them into a dynamic, innovative play experience.

Wizards of the Coast
I'll get into exactly how this plays out later on because it is an innovative new way to play Magic and deserves a spot all of its own.
The next thing that jumps out is its size. This set is going to be big—especially considering that of recent years sets haven't surpassed 300 cards, with the Mystery Boosters being the only exception. That in and of itself is something to be excited about because it will give WotC the opportunity to include some meaningful and much-needed reprints, as we covered above.
Another cool thing to know is that one in three packs will include an extra rare. So, if you join two events, chances are very high that you'll be taking an extra rare home. And it gets even better because Wizards has included a very special kind of pack dubbed the "Mythic Rare" pack. These packs contain a non-variable list of cards with a theme that is one-of-a-kind. A lucky few will be sporting a very special deck, and it could be you.
Then there's set legality. Where will you be able to use these cards, other than the prerelease and subsequent Jumpstart events? Well, to answer your question, Jumpstart cards can be used in the Commander, Legacy, and Vintage formats. So, even though it's a combination of Constructed and Limited, many of these cards are not legal in Standard.
However, the cards that have the M21 set symbol on them will be legal in Standard because they were printed in the main set.
We've seen them do this before with sets like Battlebond and Ultimate Masters, and it may be a hint to what types of cards will be included. It gives WotC the opportunity to reprint cards for Commander, Legacy, and Vintage. This gives Wizards a lot of directions in which to fly this set.
Jumpstart in MTG Arena
Gift of Orzhova | Illustration by Johannes Voss
Jumpstart is coming to Arena on July 16 with the platform's game update, and there are some things that you need to know if you're looking to play this new "format" digitally. Here's the rundown:
Jumpstart will feature on MTGA as a Limited event with over 500 cards
The themed boosters will only available as part of the event, but all of the cards can be crafted using Wildcards (even after the event ends)
All of Jumpstart's cards will be Historic-legal
The themed basic lands will be added to MTGA and you can find them in the corresponding Jumpstart themed booster (you only need to find one copy of basic lands to use them, as usual)
20 of the reprinted cards for tabletop Jumpstart will be swapped in MTG Arena, as follows:
Jumpstart Card Gallery
There will be 37 new cards introduced in Jumpstart. Spoiler season is here, and we're keeping up as best we can! We know that Jumpstart will feature around 120 cards from Core Set 2021, and we're showcasing those plus all other reprints and new cards here!
Are you ready? We're ready! Let's jump to it:
White
Planeswalker
Creatures
Instants
Sorceries
Enchantments
Lands
Blue
Planeswalker
Creatures
Instants
Sorceries
Enchantments
Lands
Black
Planeswalker
Creatures
Instants
Sorceries
Enchantments
Artifact
Lands
Red
Planeswalker
Creatures
Instants
Sorceries
Enchantment
Lands
Green
Planeswalker
Creatures
Instants
Sorceries
Enchantments
Lands
Multicolor
Spells
Lands
Colorless
Artifact Creatures
Artifacts
Land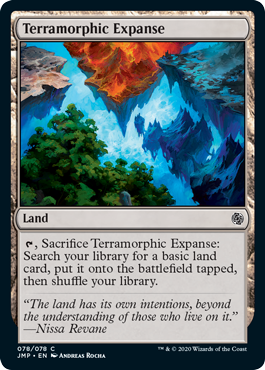 Themes in Jumpstart
Themes are an important part of Jumpstart. There are a whopping 46 of them, giving a big nod to some of Magic's most iconic sets, creature types, planeswalkers, and planes. Take a look:
Frilled Mystic | Illustration by Randy Vargas
Jumpstart Decklists by Theme
Basri
Chandra
Garruk
Liliana
Teferi
Above the Clouds
#1
#2
#3
#4
Angels
#1
#2
Archaeology
#1
#2
#3
#4
Cats
#1
#2
Devilish
#1
#2
#3
#4
Dinosaurs
#1
#2
#3
#4
Discarding
#1
#2
Doctor
#1
#2
#3
#4
Dogs
#1
#2
Dragons
#1
#2
Elves
#1
#2
Enchanted
#1
#2
Feathered Friends
#1
#2
#3
#4
Goblins
#1
#2
#3
#4
Heavily Armored
#1
#2
#3
#4
Lands
#1
#2
Legion
#1
#2
#3
#4
Lightning
#1
#2
Milling
Minions
#1
#2
#3
#4
Minotaurs
#1
#2
Phyrexian
Pirates
#1
#2
Plus One
#1
#2
#3
#4
Predatory
#1
#2
#3
#4
Rainbow
Reanimated
#1
#2
#3
#4
Rogues
#1
#2
Seismic
Smashing
#1
#2
#3
#4
Spellcasting
#1
#2
#3
#4
Spirits
#1
#2
Spooky
#1
#2
#3
#4
Tree Hugging
#1
#2
#3
#4
Under the Sea
#1
#2
Unicorns
Vampires
#1
#2
#3
#4
Walls
Well-Read
#1
#2
#3
#4
Witchcraft
#1
#2
Wizards
#1
#2
#3
#4
Jumpstart Pack Contents
We know that each pack will contain 20 cards instead of the usual 15. One of these cards will be a rare and one a themed land. It's still unclear exactly how the rest of the packs are built up in their entirety. Although a little bit of info about the build-up of each pack can be derived from a typical 40-card deck, which is what you'll be creating with Jumpstart.
Each 40-card deck (typically) consists of 23 creatures and spells plus 17 lands. So, you can expect to have about a 12 to 8 ratio between creatures/spells and lands per pack. Most packs will be mono-colored, with the exception of the Mythic Rare packs.
What we do know for certain is that each pack will be centered around a theme and all cards included will be related to it in some way, shape, or form. The packs don't indicate what theme they are, you have to open them to find out.
When you and your neighbor open the same theme, it won't mean you and said neighbor will have the same cards. Each theme has variations in the way their pack is put together, enough to make 121 different varieties, according to WotC. The exception to the rule is the Mythic Rare packs, which have a predetermined list and are always the same.
There won't be any foils in the packs. No need for the collectors to get their hopes up, then. But overall the purpose of Jumpstart is providing an awesome new way to play MTG, particularly for beginners who would find both drafting and deckbuilding too intimidating..
Jumpstart Rules and Gameplay
Prized Unicorn | Illustration by Rudy Siswanto
As mentioned before, Wizards is focusing Jumpstart on an entirely new way to play Magic. What exactly will the gameplay look like? It's really very easy, here's the lowdown:
"At its foundation, Jumpstart is simple. Grab two boosters, shuffle them together, and you're ready to go. But a closer look reveals an intricate play experience unlike anything in Magic."

Wizards of the Coast
Two packs will give you all you need to play a game of Limited/Constructed mashup. Sounds fun, right? Everything you need in two packs, no fuss no hassle.
Something else to keep in mind is that even though this is a new way to play Magic, it's not the first time this concept has been introduced. Games like Smash Up and KeyForge are both very similar in gameplay.
In Smash Up, each player has two decks that you shuffle together to create a 40-card deck to play against one another. In KeyForge, you put together 3 pre-made houses to create one House (deck) consisting of 37 cards which you then play against each other. There's also another game that follows a similar road: Transformers. Here, you create a 40-card deck that you shuffle together, and then both players use that deck to destroy the other's Transformers.
Even though the concept in and of itself isn't new, it's a new and exciting step for Magic as a game. It gives another dimension that is easy to understand and fun to play. Always a winning combination. If this is successful, I think you can expect to see other sets like this pop up in the future. Maybe even specific cards created for this mashup format. All in all, very exciting stuff.
Final Thoughts
Goblin Haberdasher | Illustrated by Jesper Ejsing

This set promises to be something special and different than what we're used to, and I'm excited for sure! It looks like a great way to hang out with friends at your LGS and just have fun with the cards and the creation of some wacky mashup decks.

I'm also very curious to see what new cards they've created for this. Commander is one of my favorite formats and getting new playables thrown my way is always a thrill. A couple of reprints for it, Legacy, or Vintage would also be amazing. We'll have to wait and see for now.

With that, we've come to the end of this article. Hopefully it was helpful, and make sure to check back when more info gets released!

If you like this article and our other content, you can support us by becoming a Patron. This helps us give you more great blogs, reviews, and articles we love getting to you. Your support means a lot to us, no matter what form you show it in.

That's all for now, see you on the next one and stay safe out there!

Note: this post contains affiliate links. If you use these links to make a purchase, you'll help Draftsim continue to provide awesome free articles and apps.

Follow Draftsim for awesome articles and set updates: