Last updated on November 3, 2022
Terramorphic Expanse | Illustration by Andreas Rocha
There's a brand-new MTG "play experience" about to jump at you later this year. With bigger packs than ever, a new way to play Magic, and exciting themes. Intrigued? I am as well.
Ready to learn everything we know about this new way to play? Let's start with its name: Jumpstart!
An evocative name if you ask me. Short, sweet, and something that is sure to excite. And we'll be taking you from the start to the finish line right now. So, without further ado, let's jump in! #punintended
Jumpstart Basic Information
Plummet | Illustration by Sidharth Chaturvedi
Set Details
Important Dates
As you can see, there are a lot of dates mentioned. It's a shame we have to wait to play this game in paper because of the Coronavirus. This set seems to be designed for you to sit down with your friends at your LGS and enjoy the crazy madness that Jumpstart is promising to be. I'll give you more on that in a bit.
One thing is for sure, though: from all the sets releasing around the beginning of summer, this is most definitely the one to be on the lookout for.
Jumpstart will be available at your local game store and online, and there will also be prereleases at your LGS on July 17, so make sure to keep an eye out for that as well!
Jumpstart is also now available on our draft simulator! Give it a try and see which weird pack combinations you get.
About the Cards: Size, Packs, and Legality
Seek the Wilds | Illustration by Anna Steinbauer
Now that you've seen what the product will look like and got all the basic info on Jumpstart, let's dive a little deeper. What else do we know so far? Wizards described it like this:
Jumpstart takes the best parts of Limited and Constructed Magic and fuses them into a dynamic, innovative play experience.

Wizards of the Coast
I'll get into exactly how this plays out later on because it is an innovative new way to play Magic and deserves a spot all of its own.
The next thing that jumps out is its size. This set is going to be big—especially considering that of recent years sets haven't surpassed 300 cards, with the Mystery Boosters being the only exception. That in and of itself is something to be excited about because it will give WotC the opportunity to include some meaningful and much-needed reprints, as we covered above.
Another cool thing to know is that one in three packs will include an extra rare. So, if you join two events, chances are very high that you'll be taking an extra rare home. And it gets even better because Wizards has included a very special kind of pack dubbed the "Mythic Rare" pack. These packs contain a non-variable list of cards with a theme that is one-of-a-kind. A lucky few will be sporting a very special deck, and it could be you.
Then there's set legality. Where will you be able to use these cards, other than the prerelease and subsequent Jumpstart events? Well, to answer your question, Jumpstart cards can be used in the Commander, Legacy, and Vintage formats. So, even though it's a combination of Constructed and Limited, many of these cards are not legal in Standard.
However, the cards that have the M21 set symbol on them will be legal in Standard because they were printed in the main set.
We've seen them do this before with sets like Battlebond and Ultimate Masters, and it may be a hint to what types of cards will be included. It gives WotC the opportunity to reprint cards for Commander, Legacy, and Vintage. This gives Wizards a lot of directions in which to fly this set.
Jumpstart in MTG Arena
Gift of Orzhova | Illustration by Johannes Voss
Jumpstart is coming to Arena on July 16 with the platform's game update, and there are some things that you need to know if you're looking to play this new "format" digitally. Here's the rundown:
Jumpstart will feature on MTGA as a Limited event with over 500 cards
The themed boosters will only available as part of the event, but all of the cards can be crafted using Wildcards (even after the event ends)
All of Jumpstart's cards will be Historic-legal
The themed basic lands will be added to MTGA and you can find them in the corresponding Jumpstart themed booster (you only need to find one copy of basic lands to use them, as usual)
20 of the reprinted cards for tabletop Jumpstart will be swapped in MTG Arena, as follows:
Jumpstart Card Gallery
There will be 37 new cards introduced in Jumpstart. Spoiler season is here, and we're keeping up as best we can! We know that Jumpstart will feature around 120 cards from Core Set 2021, and we're showcasing those plus all other reprints and new cards here!
Are you ready? We're ready! Let's jump to it:
White
Planeswalker
Creatures
Instants
Sorceries
Enchantments
Lands
Blue
Planeswalker
Creatures
Instants
Sorceries
Enchantments
Lands
Black
Planeswalker
Creatures
Instants
Sorceries
Enchantments
Artifact
Lands
Red
Planeswalker
Creatures
Instants
Sorceries
Enchantment
Lands
Green
Planeswalker
Creatures
Instants
Sorceries
Enchantments
Lands
Multicolor
Spells
Lands
Colorless
Artifact Creatures
Artifacts
Land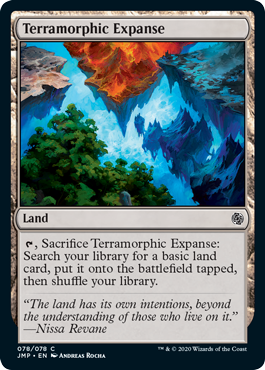 Themes in Jumpstart
Themes are an important part of Jumpstart. There are a whopping 46 of them, giving a big nod to some of Magic's most iconic sets, creature types, planeswalkers, and planes. Take a look:
Frilled Mystic | Illustration by Randy Vargas
Jumpstart Decklists by Theme
Basri
Chandra
Garruk
Liliana
Teferi
Above the Clouds
#1
#2
#3
#4
Angels
#1
#2
Archaeology
#1
#2
#3
#4
Cats
#1
#2
Devilish
#1
#2
#3
#4
Dinosaurs
#1
#2
#3
#4
Discarding
#1
#2
Doctor
#1
#2
#3
#4
Dogs
#1
#2
Dragons
#1
#2
Elves
#1
#2
Enchanted
#1
#2
Feathered Friends
#1
#2
#3
#4
Goblins
#1
#2
#3
#4
Heavily Armored
#1
#2
#3
#4
Lands
#1
#2
Legion
#1
#2
#3
#4
Lightning
#1
#2
Milling
Minions
#1
#2
#3
#4
Minotaurs
#1
#2
Phyrexian
Pirates
#1
#2
Plus One
#1
#2
#3
#4
Predatory
#1
#2
#3
#4
Rainbow
Reanimated
#1
#2
#3
#4
Rogues
#1
#2
Seismic
Smashing
#1
#2
#3
#4
Spellcasting
#1
#2
#3
#4
Spirits
#1
#2
Spooky
#1